DogWatch by K9 Keeper Fencing LLC
It's all about your dog!
We are Derrick and Rachael Woiderski, owners of K9 Keeper Fencing LLC. We are both Michigan natives and pet lovers. We have three dogs and a cat; Sadie, a rescued Miniature Pinscher (or Min-Pin), Amber, a rescued Vizsla, Bella, a rescued Black Lab/Coonhound mix, and Bailey, a VERY energetic Savannah cat.

Our love of animals, and the desire to own a small business serving fellow animal lovers in West Michigan and Lansing areas brought us to DogWatch®. We are your one stop solution for all of your pet containment needs in Grand Rapids, Kalamazoo, Holland, Muskegon, Alma, Lansing, Battle Creek, and more!

We strongly believe that DogWatch® products, warranties, and commitment to pet safety are superior to any other available pet containment systems on the market, including the Invisible Fence Brand. Of course, when you have the best products on the market, top notch customer service is key, and K9 Keeper Fencing delivers! We believe in treating people as they would like to be treated, from fair pricing to promptly returning phone calls, to handling difficult problems with integrity and professionalism.

At K9 Keeper Fencing LLC, we are proud to provide all of West Michigan and the Lansing area with DogWatch®, BigLeash®, and Lupine® products. In addition, we can also assist current owners of other brands of pet fences, including Invisible Fence®, PetStop®, Dog Guard®, PetSafe®, Innotek®, and others, with wire breaks, pet fence repair, wire relocation, training, and flagging. We also offer a Trade-in Program to upgrade from your current fence system to a DogWatch Hidden Fence, ask about it today!

The Freedom You and Your Pets Deserve!

We are "Simply the Best...No Getting Around it™
Get a Free In-Yard Estimate!
Our representatives will meet you at your home for a free in-yard estimate. We will help assess your needs and customize a solution that suits both you and your pet. Contact us today to schedule a free, no obligation appointment.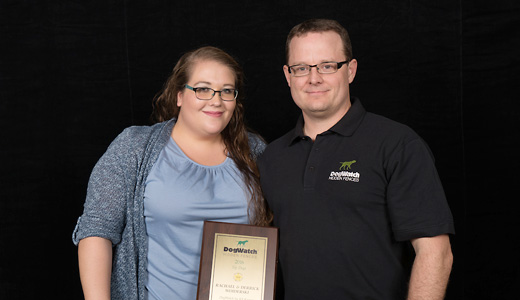 Why Choose DogWatch by K9 Keeper Fencing LLC?
1. Our number one concern is the safety and well-being of your pet. We provide the support you need to ensure successful training and happy containment.
2. We provide a proven PetFriendly™ training program. We train your dog (or cat) to recognize the boundary flags and the audible warning signal (or vibration) before introducing the correction.
3. We are experienced professionals committed to providing excellent customer service and support. We strive to service every customer promptly and courteously.
We want to hear about your experience! Write us a review on Google+
Simply the best. No getting around it.™
The DogWatch Hidden Fence is the most technologically advanced and the easiest to use, and it is backed up by a no-hassle Lifetime Warranty from a company with more than 25 years of keeping pets happy, safe, and at home. 

What makes us Simply The Best?
---
Customer Testimonial
Very professional, responsive and performed great work! Quote to installation was very speedy, but also very thorough. I would recommend K9 keeper to anyone.


Claudia S. – Holland, MI